Press Release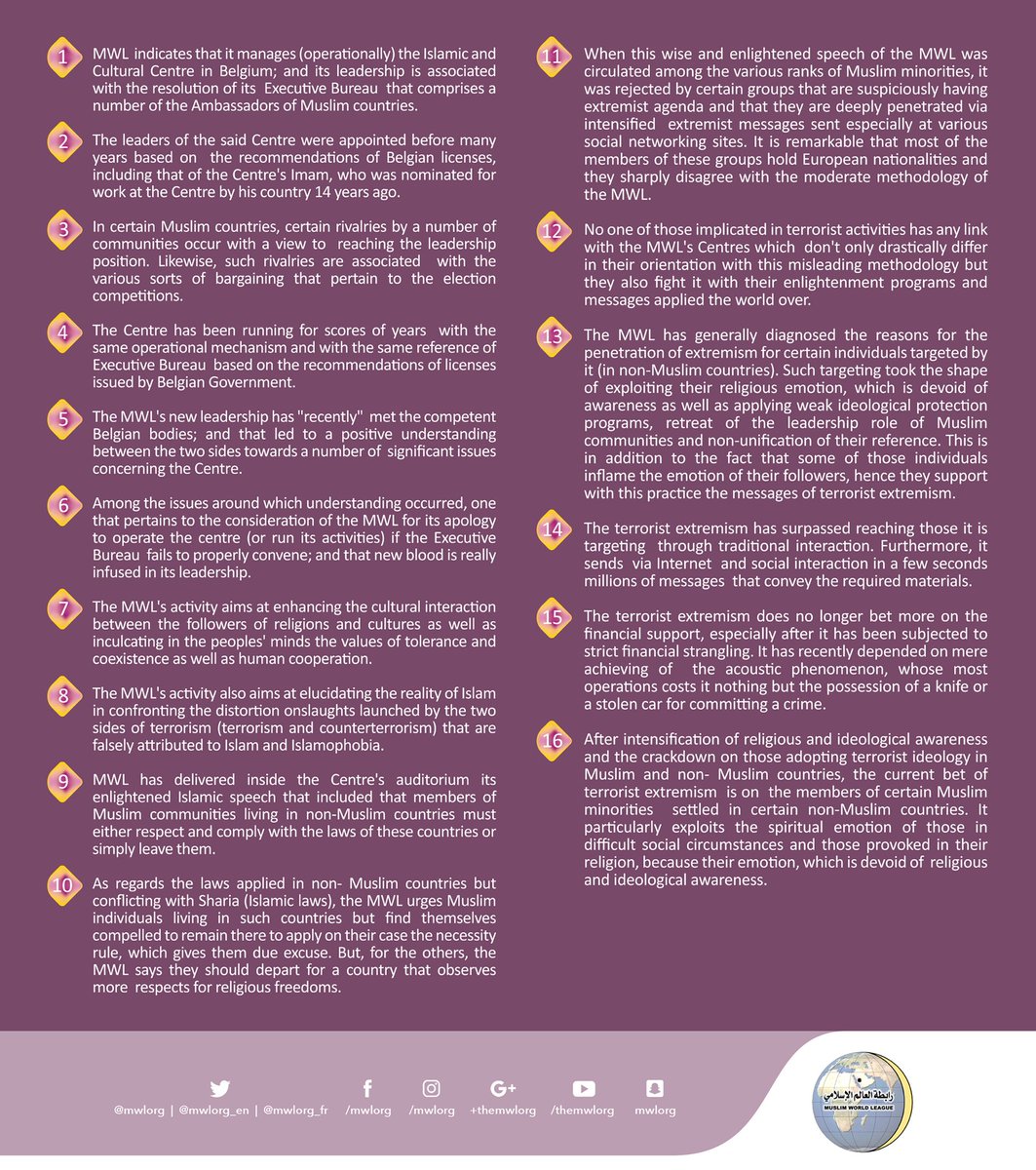 The Muslim World League reaffirms its total rejection for the unilateral – source and undocumented information carried out by the report of the Secretary-General of the United Nations
Makkah:
Based on International Criminal Law, the brutal crimes perpetrated against Rohingya Muslims in Myanmar (former Burma) are similar to those of ISIS and AlQAEDA
Holy Makkah
Holy Makkah,
The Muslim World League and its affiliate the World Body of Muslim Scholars condemn the Israeli occupation authorities for barring the Muslims from praying in Al-Aqsa Mosque.
1- Through its Relief Organization, the MWL conducted "cardiac catheterization, clogged arteries & tight valve" operations in Mauritania.
2- Many patients came to take advantage of the MWL's treatment services given the high costs of such operations globally.
3- The implementation of this health program is made possible by a group of senior Saudi doctors led by the consultant Dr. Ali Massoud.
Based on the classifications issued by the Kingdom & other States, MWL cancels Yusuf Qaradawi's membership with the "Islamic Fiqh Coucil".
MWL expresses its full support for the severance of relations with Qatar
MWL say: The severance of relations with Qatar came in accordance to the Islamic, legal and logical necessity towards Qatari practices
The procedure adopted by the Kingdom of Saudi Arabia and other sister countries aim to create necessary guarantees to safeguard its security, stability as well as deter vicissitudes of time
Internal conflict in Islam reflects the extent of deviation and materialism. Honesty & adherence to Shari'a ensure peace & harmony.