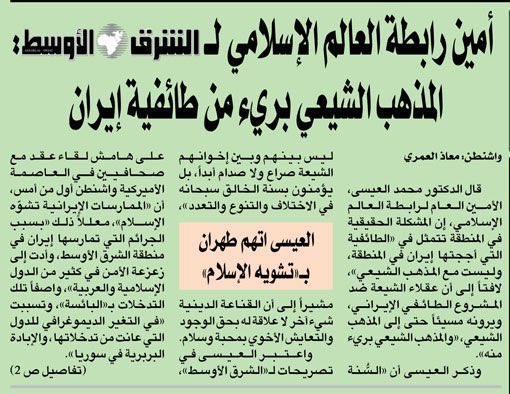 The Secretary-General of the MWL Sheikh Dr. Mohammed bin Abdul Karim al-Issa in an interview to Asharq Al-Awsat, while speaking to reporters during his visit to Washington DC, yesterday.

Washington- Mouaz Al Omari
Secretary-General of the Muslim World League (MWL) Dr. Mohammad Al-Issa said that Iran is defaming Islam with its "desperate" practices, especially with its crimes in the Middle East that have destabilized security in several Arab and Islamic states.

The world is witnessing Nazi-styled force (Iran) seeking hegemony, Issa told Asharq Al-Awsat on the sidelines of a press conference in Washington, DC.

Issa cited Iranian political ambitions and historic tendencies for hegemony, saying that they will not likely change so long the cleric-led regime keeps going against moral values and principles.

He added that, just like the Nazi regime, Tehran is driven by a personal agenda solely and acts irrespective of logic, truth or justice.

Iranian sectarianism has galvanized regional strife, inspired several crimes that have destabilized security in a number of Arab countries, said Issa.

Issa explained that Tehran's sectarian slogans have fed into Islamophobia and prejudice before those who aren't familiar with true Islam.

Added to that, Iran's actions fueled sectarian strife in the Arab region.

"We can take the scale of crimes committed by Iran in Yemen as an example. Backing Houthi, it (Iran) has supported a coup against legitimate forces alongside vandalism in Yemen, attempting to carve up a demographic change in Yemen," Issa said.

More on Iran's criminal history, Issa condemned Tehran's prevention of humanitarian assistance reaching Yemenis, and its continued support of barbaric genocide carried out against the people in Syria.

The MWL Chief said that Sunnis have no clash with Shiites, but ardently believe in diversity being one of the Almighty's wills. He reiterated that religious conviction greatly promotes values of coexistence, love and harmonious living.

Issa went on to absolve Shiites from the Iranian-inflicted sectarianism in the region, saying that reasonable Shiite leaders go against Iran's sectarian project, slamming it as offensive to Shiites everywhere.

"The Shiite sect is innocent of it (Iran's doing)," Issa said in his reference to what some Shiite clerics and leaders ruled.

Speaking about the Arab quartet dispute with Qatar, Issa said that the MWL hasn't intervened in Qatar's crisis because the solution is clear and the topic is simple and focused on Qatar's commitment to its previous pledges. "We are against the so-called political Islam, that aims at deploying Islam to achieve political goals. It also seeks to undermine the concept of national states in the Islamic world," he stated.

Issa emphasized the statements made by Saudi Crown Prince Mohammed bin Salman on the necessity of returning to the true image of Islam, adding that bin Salman had established the two biggest global platforms to combat extremist ideologies: Etidal Global Center for Combating Extremist Ideology and Feker.

The MWL has achieved several initiatives and programs in combating extremist ideologies through the participation of its scholars in clarifying what true Islam is, explained Issa.