Press Release
Makkah
The Secretariat General of the Muslim World League (MWL- League) has condemned the terrorist explosion that targeted the Cathedral Church of Mark in Cairo, Egypt and the two explosions that occurred in the Turkish capital, Istanbul as well as the explosion that happened in the Somali capital, Mogadishu and which all caused the death and injury of scores.
The Muslim World League strongly denounces the criminal attempt perpetrated by the Houths Militias of Yemen and which was represented in their launch towards Holy Makkah Division of a ballistic missile that was intercepted and destroyed by the Saudi Air Force at 65 KG from the Holy Capital, Makkah, without allowing it to cause any damage.
The Secretariat General of the Muslim World League has indicated that this action exposes the magnitude of misleading in which was involved this criminal gang whose self has permitted it to be audacious towards provoking the feelings of Muslims via adopting sectarian illusions, malice and hatred.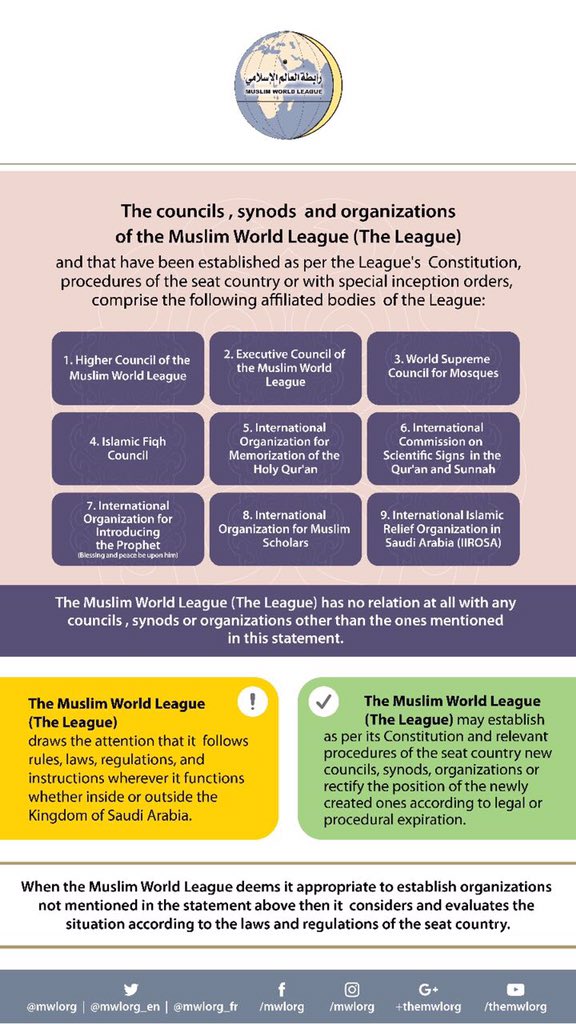 Jeddah, Dhu-AlHijjah 12, 1437, Sep 13, 2016, SPA -- Muslim World League and its affiliate World Organization of Muslim Scholars expressed deep concern for the issuance of the US Congress of a legislation known as: "Justice law against sponsors of terrorism", as it clearly and frankly contravenes with the UN Charter and the principles of international law; and as such act is contrary to the basis of international relations based on the principles of equal sovereignty, immunity of the state, mutual respect and non imposition of domestic laws of any state on the other state (s).
Makkah :
The Secretariat General of the Muslim World League (The League) based in Holy Makkah has denounced the attitude adopted by Iran which was represented in its rejection to sign minutes of the agreement pertaining to completion of arrangements of pilgrimage (Hajj). The League holds Iran fully responsible for depriving Iranians intending to perform Hajj or Umrah or visiting Madinah of the opportunity of doing so via creating obstacles that prevent reaching a final agreement that organizes the performance of the Iranian pilgrims for Hajj obligation.
Makkah, Shawwal 21, 1436, Aug 6, 2015, SPA -- The General Secretariat of the Muslim World League (MWL) condemned here the terrorist bombing which targeted a mosque at the headquarters of the special emergency forces in Asir resulting in the martyrdom of a number of them and the injury of others.
This came in a statement issued by the MWL Secretary General and the member of Council of Senior Scholars Dr. Abdullah bin Abdulmohsen Al- Turki, who condemned this terrorist crime carried out by this deviant group.