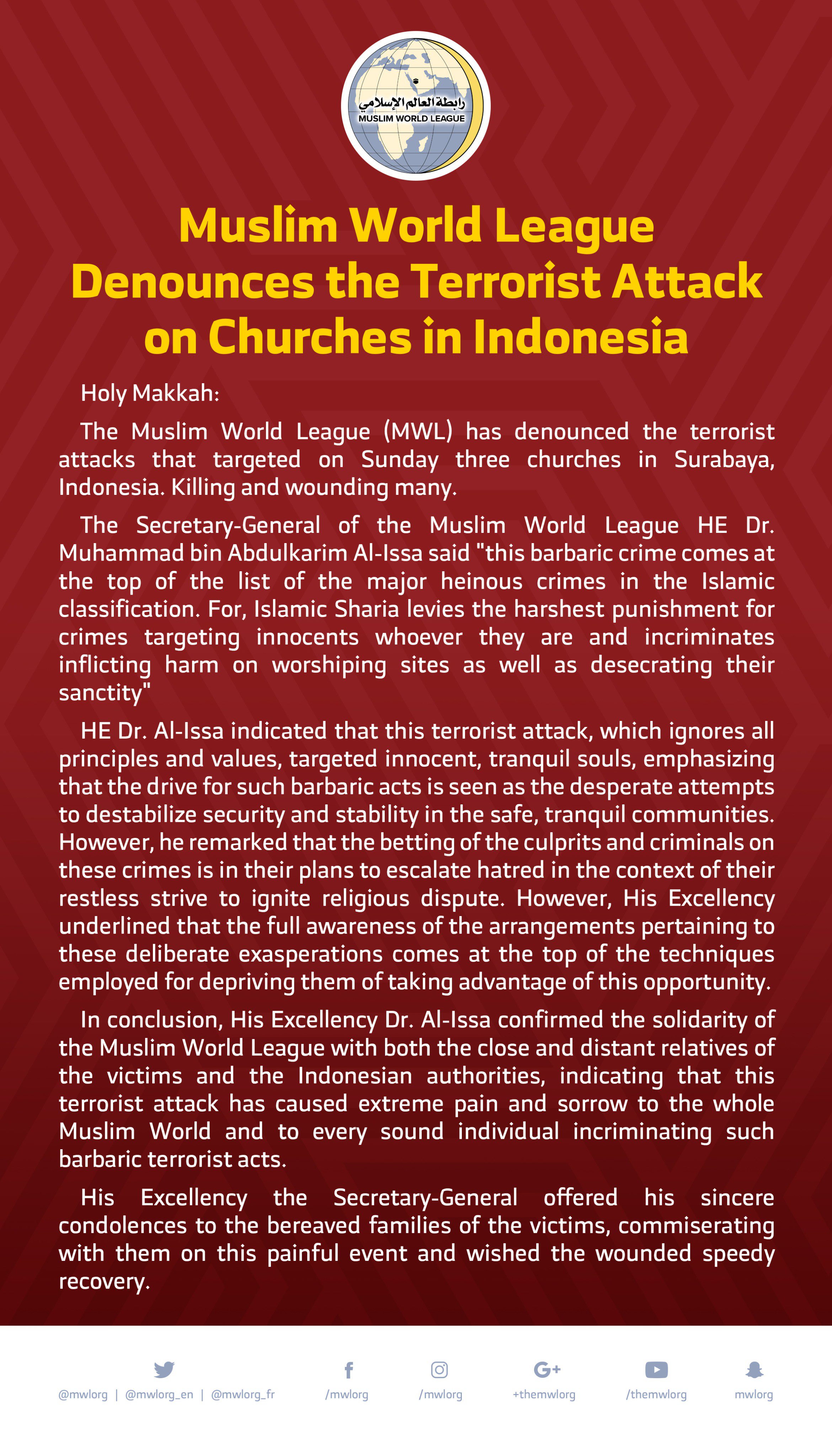 Muslim World League Denounces the Terrorist Attack on Churches in Indonesia

Holy Makkah:

The Muslim World League (MWL) has denounced the terrorist attacks that targeted on Sunday three churches in Surabaya, Indonesia. Killing and wounding many.

The Secretary-General of the Muslim World League HE Dr. Muhammad bin Abdulkarim Al-Issa said "this barbaric crime comes at the top of the list of the major heinous crimes in the Islamic classification. For, Islamic Sharia levies the harshest punishment for crimes targeting innocents whoever they are and incriminates inflicting harm on worshiping sites as well as desecrating their sanctity"

HE Dr. Al-Issa indicated that this terrorist attack, which ignores all principles and values, targeted innocent, tranquil souls, emphasizing that the drive for such barbaric acts is seen as the desperate attempts to destabilize security and stability in the safe, tranquil communities. However, he remarked that the betting of the culprits and criminals on these crimes is in their plans to escalate hatred in the context of their restless strive to ignite religious dispute. However, His Excellency underlined that the full awareness of the arrangements pertaining to these deliberate exasperations comes at the top of the techniques employed for depriving them of taking advantage of this opportunity.

In conclusion, His Excellency Dr. Al-Issa confirmed the solidarity of the Muslim World League with both the close and distant relatives of the victims and the Indonesian authorities, indicating that this terrorist attack has caused extreme pain and sorrow to the whole Muslim World and to every sound individual incriminating such barbaric terrorist acts.

His Excellency the Secretary-General offered his sincere condolences to the bereaved families of the victims, commiserating with them on this painful event and wished the wounded speedy recovery.