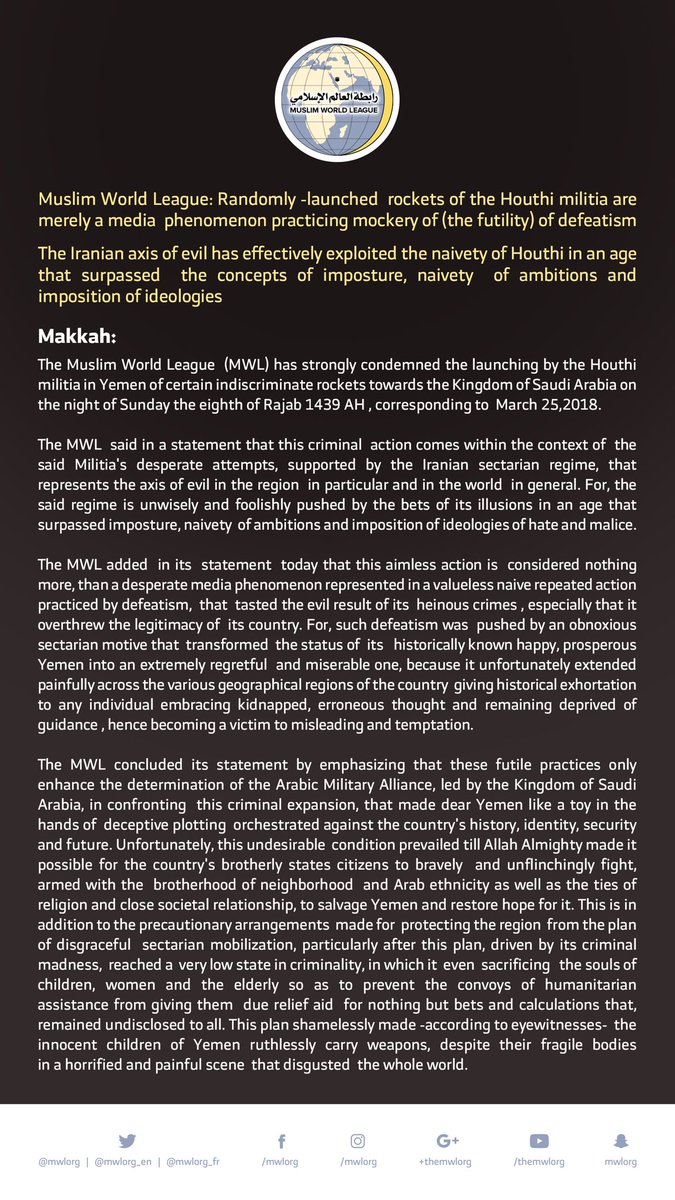 Muslim World League: Randomly -launched rockets of the Houthi militia are merely a media phenomenon practicing mockery of (the futility) of defeatism

The Iranian axis of evil has effectively exploited the naivety of Houthi in an age that surpassed the concepts of imposture, naivety of ambitions and imposition of ideologies

Makkah:

The Muslim World League (MWL) has strongly condemned the launching by the Houthi militia in Yemen of certain indiscriminate rockets towards the Kingdom of Saudi Arabia on the night of Sunday the eighth of Rajab 1439 AH, corresponding to March 25, 2018.

The MWL said in a statement that this criminal action comes within the context of the said Militia's desperate attempts, supported by the Iranian sectarian regime, that represents the axis of evil in the region in particular and in the world in general. For, the said regime is unwisely and foolishly pushed by the bets of its illusions in an age that surpassed imposture, naivety of ambitions and imposition of ideologies of hate and malice.

The MWL added in its statement today that this aimless action is considered nothing more than a desperate media phenomenon represented in a valueless naïve repeated action, practiced by defeatism, that tasted the evil result of its heinous crimes, especially that it overthrew the legitimacy of its country. For, such defeatism was pushed by an obnoxious sectarian motive that transformed the status of its historically known happy, prosperous Yemen into an extremely regretful and miserable one, because it, unfortunately, extended painfully across the various geographical regions of the country giving historical exhortation to any individual embracing kidnapped, erroneous thought and remaining deprived of guidance, hence becoming a victim to misleading and temptation.

The MWL concluded its statement by emphasizing that these futile practices only enhance the determination of the Arabic Military Alliance, led by the Kingdom of Saudi Arabia, in confronting this criminal expansion, that made dear Yemen like a toy in the hands of deceptive plotting orchestrated against the country's history, identity, security, and future. Unfortunately, this undesirable condition prevailed till Allah Almighty made it possible for the country's brotherly states citizens to bravely and unflinchingly fight, armed with the brotherhood of neighborhood and Arab ethnicity as well as the ties of religion and close societal relationship, to salvage Yemen and restore hope for it. This is in addition to the precautionary arrangements made for protecting the region from the plan of disgraceful sectarian mobilization , particularly after this plan, driven by its criminal madness, reached a very low state in criminality, in which it even sacrificing the souls of children, women and the elderly so as to prevent the convoys of humanitarian assistance from giving them due relief aid for nothing but bets and calculations that remained undisclosed to all. This plan shamelessly made- according to eyewitnesses- the innocent children of Yemen ruthlessly carry weapons, despite their fragile bodies, in a horrified and painful scene that disgusted the whole world.